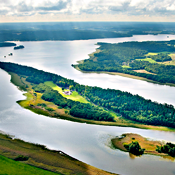 TIGER TOWN
Tiger Woods's Swedish Island
Asking price: $5,538,000.
The digs: A 61-acre island, complete with villa and hunting lodge, where Woods and ex-wife Elin Nordegren spent their days before... well, before.
The extras: A protected quay, a personal ferry boat, horse stables and six driving tees. Of course.
What you'll do here: Whatever you please—just don't leave your phone unattended.