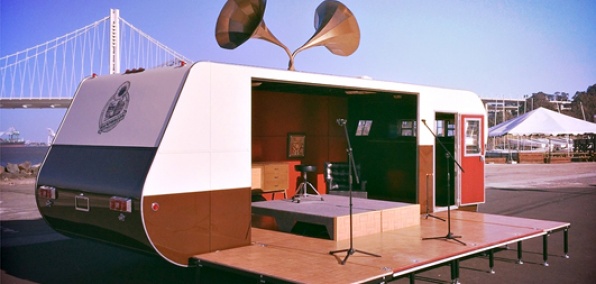 Important trailers. San Francisco's got a few.
The one with
the brick-lined pizza ovens
. The one with
the built-in taps
. The one with the foldout stage.
Oh, maybe you haven't seen that last one...
Clear the road for
Bandwagon
, a vintage trailer that's actually a mobile stage for wherever you might need a stage—it's now available for private bookings.
Think of it as sort of like a food truck, only sub the stoves for a state-of-the-art sound system, lighting rigs, two gramophones on top and a stage that sort of folds up like a Murphy bed.
Also, the whole thing looks like a cross between a mid-century living room and a '70s basement. You might've seen it at Treasure Island or Hardly Strictly Bluegrass, but only now could you see it at... your place.
The obvious choice would be to rent it for your garage band at your next little get-together. But a comedy show, poetry slam or karaoke situation could also happen. The owners can help line up a band for you, too. So all that's left to do is tell them where to park it.
And to figure out your encore.