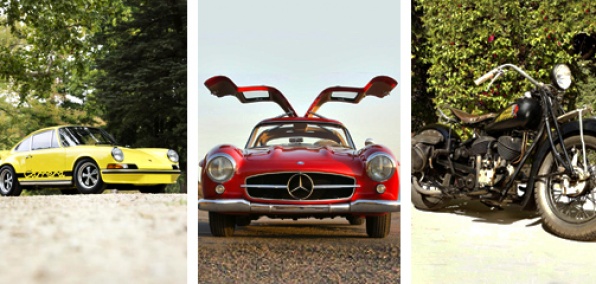 In this corner, the Bonhams Las Vegas Motorcycle Auction. In the other corner, the Bonhams Scottsdale Auction. Both involve incredibly rare things with wheels under them, and both are wide-open for bids right now.

But... let's take a step back first.

Let's not just jump right into the business of procuring Steve McQueen's '36 Indian Chief bike or Peter Fonda's leather jacket.

Fine, let's do. Tale-of-the-tape-style...

The Rundown
Vegas: Motorcycles. Over 750 of them. Which makes this the largest US motorcycle auction of all time. Is all.
Scottsdale: More than 80 vintage Ferraris, Porsches, Jaguars and other classic cars hailing from all over the globe.

The Standout Steeds
Vegas: A 1942 Zundapp military sidecar and that Indian Chief bike that McQueen used to fancy back in the day.
Scottsdale: A 1966 Ferrari 275 GTB Competizione and the former prime minister of Northern Ireland's '55 Benz coupe. Yes, it's got a plaid interior.

The Miscellany
Vegas: Peter Fonda's leather jacket. A Girard-Perregaux watch. Other things that just make good sense to own.
Scottsdale: A "Master John, Good Day" hood ornament. Basically, he's a rare little guy who used to live on the front of cars and tip his hat.

So you can stop looking for one of those now.