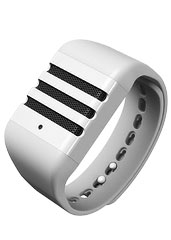 "The secret code is FHDX-74-LDNF4e. Enter it by nightfall or the galaxy explodes."
1) You never know when a one-eyed man in a leather trench coat is going to say that to you.
2) Yes you do. It's never.
3) But if he did, you'd want to remember that code.
4) This little wrist thing would help you remember that code.
We might owe you an explanation...
In the form of
Kapture
, a watch-like piece of technology that constantly records everything that's said in 60-second loops so you never have to miss a good sentence or two, now available for preorder.
When you see something that you want to remember, you take a picture. When you hear something you want to remember, you... don't retroactively record one-minute snippets of audio by tapping a device and wirelessly sending them to your phone. But clearly, you should be doing that.
There you'll be, making conversation at some upcoming holiday function. Someone will say something prophetic. You'll laugh and think about how that's one for the books. You'll tap your wrist, it'll capture the last 60 seconds of conversation and—poof—officially in the books.
It's not creepy if it's science.