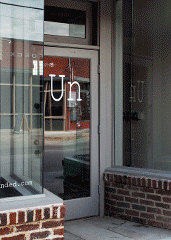 Right now, your holiday shopping list is just an idea.
A myth, really.
But keep procrastinating, and you just might be rewarded.
Hey, look at that. Here's
Unbranded
, a rotating pop-up shop that's bringing locally made wearable things, leather goods and... baristas into a Deep Ellum storefront. It opened today.
Inside it's a simple wood-and-brick space fashioned into a makeshift store. That means tables, mostly, hawking wares from the likes of Quixotic (pocket squares) and Of Mud & Coal (handsome leather things). Also, it's just open through the holidays, so act accordingly. 
And while new stuff transitions in each week, Need and Foot Cardigan are staying put for the duration. Because they started this whole thing, and it's their prerogative to supply you with dapper gear and eccentric socks.
So check it out. Grab a cup of coffee from the Tweed Coffee Roasters guys. Buy some pants for yourself. Procure a leather wallet for a friend because that's why you came here in the first place.
Then stay tuned to their Facebook page to see what's happening in subsequent weeks. Here's a hint: T-shirts, ties and a visit from Ministry of Supply.
That's a pretty clear hint.