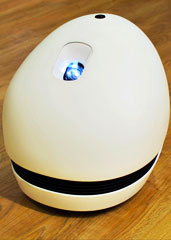 In the annals of handy robots, a few names are hallowed.
Rosie.
Vicki.
Johnny Five.
And now:
Keecker
. It's an R2-D2-looking thing that goes wherever you go while playing music and showing your movies and photos on walls, and it's an actual thing you can now preorder online for a spring delivery.
Some robots make car parts and perform surgery. And some robots revolt against their human overlords and terminate civilization as we know it. This isn't those. It's just a pleasantly smart robot equipped with a 360-degree camera, heat and movement sensors, wi-fi, storage space for 1,000 movies and surround sound.
It will go where you tell it, playing your music and projecting photos, games and movies on your walls along the way. In case you happen to have some stray moments in your life when you're not staring at a screen.
Just pledge on Kickstarter, and this little guy will arrive in April. Invite some friends over for dinner and have Keecker play "Pomp and Circumstance" when they walk in. (Or Right Said Fred. Possibilities are endless, really.) Then, later, Keecker can turn wherever you end up nightcapping into a screening room.
You know
somebody's
got something to screen.