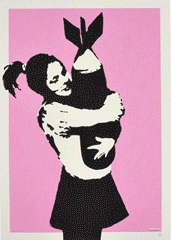 All together now: we say "art," you say "collection."
All right, yeah, that wasn't as cool as it was when we tried it earlier.
So let's chalk this one up to living a more well-rounded existence and be on our way...
To
Marina4Art
, one woman's personal collection of original art from the likes of Banksy, Dalí and other artists you've definitely heard of, along with a few of her own paintings, online now.
This woman. This Marina Romanova-Arnott. She's from Russia (who would've thought) and she has spent the last couple decades making and collecting art. You should scoop up one of her still lifes or abstract paintings. They're nice. Definitely nice.
But... you could also just go straight for the crown jewels: the original pieces from renowned artists that she's gathered throughout the years. A copy of Dalí's
Diary of a Genius
in which he sketched an image of a man riding a horse. A print of a girl hugging an old-timey bomb by Banksy. A couple clay plates made by Picasso.
Let's assume those aren't dishwasher-safe.