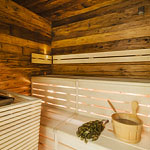 HELSINKI AIRPORT
Saunas. In Finland. Go Figure.
You Require: A toasty steam, a hot shower and some forest-berry-scented bath gels. If we're being specific. Which we always are.
You'll Receive: An all-white Nordic temple of Zen-centering delights at the Finnair lounges. Take a private shower. Nap in the sauna. Let loose on the platters of lingonberry-filled pastries.