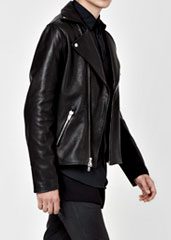 It's always nice when you see a tribute to John Lautner around town.
Sometimes it's a house, sure, but sometimes it's a good leather jacket...
Make way for
The Arrivals
, a new brand of outerwear named after very famous and very smart people who designed buildings, because why not—it's all now available online.
You're looking at jackets and parkas devised by New Yorkers. So you know they can credibly keep you warm during your impending holiday-era travels to colder climates... and cover you during chilly (but not really) nights strolling from beach-adjacent restaurants to your car. Plus, they look good.
Right now, it's a small line of just a few jackets. So if Mammoth is on your agenda, order the wind-resistant, wax-finished parka with a merino wool hood. If you're biking the PCH (or auditioning for PCH Biker #3), the classic, heavyweight black leather jacket named the Lautner is in order. If you're bound for North Dakota in December...
You have bigger problems than outerwear.