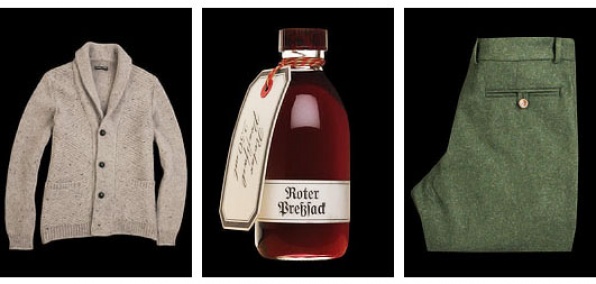 That was fun.

We had our summer for a second there.

Now we're back to leaning on the Germans to keep us warm...

Or maybe this is the first time we'll go ahead and do that.

Meet Frank Leder, a sturdy collection of made-in-Germany clothes that are the sartorial equivalent of a crackling fireplace, now making its San Francisco debut at Unionmade.

Cars. Beer. Great-looking hand-knit sweaters with a subtle geometric pattern. That's a short list of things that Germans apparently do well. Anyway, this is one of those autumn-on-your-body collections that make you look great on a dinner date without looking like you're trying to look great on a dinner date. Wool pants. Blazers. Button-down shirts. Cardigans. Sausage soap.

Wait, sausage soap?

Yeah, there's an apothecary faction called Tradition. A Bavarian sausage hand soap is involved. There's no actual sausage in it, but put some on and you might convey a welcoming hint of a whiff of breakfast sausage.

Especially if you're in your kitchen making breakfast sausage.