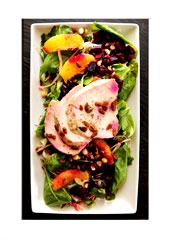 Lunch.
If you didn't have it, you'd die.
Or at the very least, become considerably more irritable for the rest of the day.
Point is: you need it.
And we know just the thing...
Now seems like a convenient time to introduce
Foodium
, a new Somerville-based provider of boxed power lunches delivered straight to your door/face, available online now and delivering to Boston, Brookline, Cambridge and Somerville.
These guys are currently in beta mode. But that won't stop them from feeding you. And you don't need any sort of registration, membership or oath of loyalty to access their services. Just visit the site and pick what you need.
Each week, they'll choose one ingredient to feature: butternut squash, mangoes, buckwheat. You get the idea. Then their cooks (or in last week's case, a special guest star like Sarma's Ana Sortun) compete to make the best dish using that ingredient. The winner becomes the single featured dish the next week.
All that's required of you is to order it by 10am. If you can make that happen, they'll deliver it to you by noon. For free.
9:59am never felt so urgent.