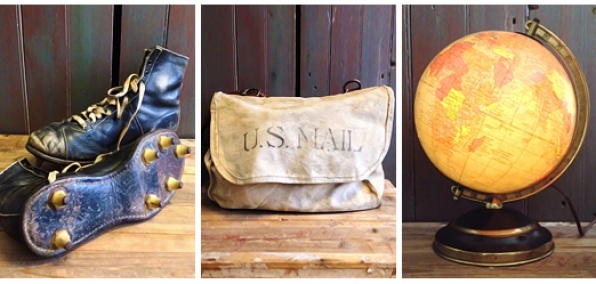 Your bookshelves are nice. Your walls, nicer. Not that they couldn't use a first-edition Tolstoy from 1886. Or a rare American flag.

Here to provide those things: Cleveland Park Vintage, a virtual shingle hung out by the architect who helped decorate restaurants like Red Apron and Iron Gate, now online.

His name: Jake. His game: scouring for exceptional, must-have pieces across his native Texas, as well as flea markets in Japan and estate sales here in DC at the homes of former diplomats, generals and spies.

The stuff he finds is stuff your place would want. Stuff like this:

A 49-star American flag. These were only made for one year, before Hawaii joined. Not advised if your neighbor is Hawaiian.

A 1966 US mailbag. The kind of bag that's perfect for your gym clothes. Or sensitive white papers. Or, we suppose, lots of mail.

A 1956 Civil Defense poster. A little conversation piece for your wall. Or your fallout shelter.

Depression-era football cleats. Tough-looking, all-leather high-tops. So you wouldn't, er, dislocate your ankle.

Maybe get a pair for Kirk Cousins.