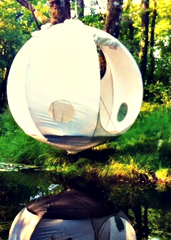 Tent + ball + party in the sky = this thing.
This thing =
Roomoon from Hanging Tent Company
, a big spherical tent that hangs from trees and has a sheepskin rug as an optional accessory because naturally, now available online.
The guy behind it: Rufus Martin. He's from England. And he built this for a project in England's equivalent of high school. Kids these days.
It's made with steel and canvas and has a pinewood floor that rolls right up for carrying around. The kicker, though: it's also got a chain that runs through the inside of the tent so you can raise it up and lower it down from a tree (or something more creative) as you see fit.
To get your hands on one, go to the site. Great. Hard part's over. Next, simply choose your extras, like whether or not you want a six-foot sheepskin rug or a fitted beanbag chair.
Once you definitely choose both, just go about your regularly scheduled suspended-orb-related activities.
Maybe start brainstorming some of those.