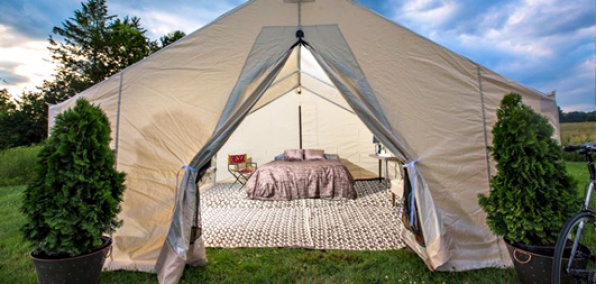 The great outdoors: s'mores, sleeping bags, ghost stories, bike rides, starry nights...

The greater outdoors: all that. But with a personal chef and a traveling band of masseuses.

Saddle up for TerraVelo Tours, a seven-day camping and biking sojourn through some quintessential American landscapes while being treated like you're not on one of those, now taking reservations.

Let's get to all the things you'll do, like...

Bike a couple hundred miles.
They'll provide the bike. Depending on your trip, you'll cycle between 30 and 50 miles a day and travel through places like southern Utah, Yellowstone or the vineyards of California.

Sleep like you do at home.
Only in a tent. But they're big. And they've got nice beds and nice sheets and nice couches. Nice.

Have two personal chefs.
They'll follow you around in a van like some sort of culinary pace car and make you three square meals a day. Or round meals. Or triangular snacks. Your chefs, your rules.

Drink well.
Because there'll be a juice bar by morning and wine by night.

Get a massage.
Yep. A traveling masseuse. She's all yours.

Hike and horseback ride.
And river raft. And do yoga at sunrise. And be generally never bored.

Anyway, that's camping now.