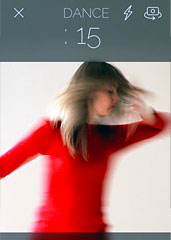 Tinder, meet video.
Video: this is Tinder.
Great, now that everyone's been introduced...
This is
15Winks
. It's a new dating app based in Deep Ellum, and it's using videos to assist in your courtship efforts.
You have questions. We have answers. Both are below:
So how exactly is it like Tinder?
Well, it's a dating app with local profiles and whatnot. But unlike Tinder, this one's all about current, in-the-moment videos.
Please elaborate.
Basically, you can record and post 15-second videos of yourself. And then check out 15-second videos of other people.
That's actually not that complicated.
Nope.
Okay. But can I interact with these people?
Sure. If you see someone you like, click the little wink button to say as much. If they wink back, it's on. Or strike up a conversation using the in-app text message service. Because winking can only go so far.
Does it work?
Sort of. Right now, the pickings are slim. Though they're working to get more people signed up.
How slim?
Well, when we tried it over the weekend, there was only one other person on it.
And...?
We'll never reveal what happened between us and [REDACTED] from [REDACTED].
But we can tell you this: it was [REDACTED].