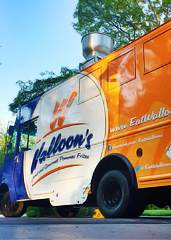 They say that if you think about something hard enough, it will happen.
So some thanks are in order to whoever spent all that time thinking about a big truck full of fries...
We'd like to address the matter of
Walloon's
, a four-wheeled repository of fried potatoes and the dipping sauces that love them, expecting to roll out Tuesday.
Store this information in a safe, dry place:
We've got a real American-dream-type story here.
Two boys meet in third grade. They become best friends. Years later, they buy a truck and fill it with deep fryers for your lunching pleasure.
These fries are not your average fries.
We're talking Belgian-style pommes frites. Which means they're cut by hand and get fried twice. That and they sound fancier.
Your mayo options are endless.
On a scale of 1 to 8, anyway. They've got things like
creamy sriracha
and smoked basil curry.
Poutine. Of course.
There's the kind you'd expect, like with gravy and cheese curds. And the kind you wouldn't, like with buffalo sauce and blue cheese. Poutine surprises are the best surprises.
Deep-fried hot dogs wrapped in bacon will be a thing here.
Never before have so few fried so hard.