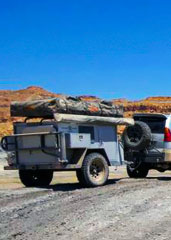 So you've got some sort of end-of-summer camping excursion in the works.
Nice.
But before you go, we have an important message to a pass along:
Only you can prevent forest fires.
Oh, also:
Turtleback Trailers
, some giant pieces of travel-ready metal containing everything you need to survive/live exceedingly well in the wild, are available now.
This all starts with a steel frame on wheels. Which also happens to come with some great stuff like...
—A pull-out kitchen with a sink, a two-burner stove and birch cabinets. Hot dogs have never lived in such luxury.
—A 42-gallon water tank for washing, cooking and Slip 'N Slide lubricating.
—An outdoor shower.
—A water heater to make your outdoor shower warm.
And that's all fine. But you can also customize them online by adding options like...
—Boat racks.
—A solar panel.
—Custom colors.
—Rooftop tents and annex rooms.
—A refrigerator.
Maybe don't tell any bears about that last part.