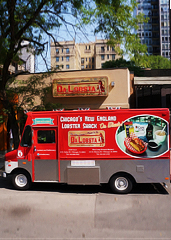 Ancient mystics believed that to conjure a thing into existence, all you had to do was say its name.
So tomorrow, just before 11am, go to the corner of Monroe and Clark streets, close your eyes and chant these sacred words: Lobster rolls. Lobster rolls. Lobsters rolls.
And when
Da Lobsta Food Truck
comes careening around the corner, you will know you have been of great service to humanity.
Be humble when they anoint you their leader and usher you to the front of the line.
Because, yes, it's the mobile incarnation of that little Gold Coast lobster shack that could, distributing its brand of East Coast finery to other, less well-lobstered parts of the city.
Step right up to your choice of traditional roll, a surf and turf (with two kinds of bacon) or a special of the day like the
Mexican Roll
(cilantro, salsa, chihuahua cheese...). All of which are also available with crab or shrimp, but come on.
Going forward, just keep a watchful eye (
or a watchful Facebook page
) for this thing in areas where lobster grilled cheese sandwiches and spicy pickles might make a difference in people's lives. Near Lollapalooza, for example.
Everywhere else, for another example.