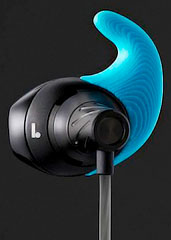 You don't buy shirts made to fit someone else's arms.
You don't buy shoes made to fit someone else's feet.
So why in the name of all that's good should you buy earbuds made to fit someone else's ears...
Turn up the volume for
Normal
, your new pair of earbuds custom-designed by a 3D printer to fit your ears and your ears only, available for preorder now.
It's hard to describe how these look because, well, we can't see your ears. But whatever your ears looks like... these'll look like they belong there. And only there.
How it works: download the free Normal app. It'll guide you through snapping a few photos of your ears. Right. Ear selfies, if you will. Send those to the aural experts down at the factory—along with your preferred earbud color and cord length, and, sure, the name you'd like emblazoned on the case—and, when they ship, you'll have a pair of specific-to-you, perfect-fitting, 3D-printed earbuds quickly delivered to your door.
So "Fits like an earbud" is something people might start saying.