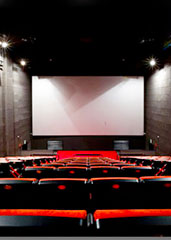 "Take your amazing-smelling paws off me, you damn perfectly clean ape."
—Not a thing Charlton Heston said in
Planet of the Apes
Anyway, in case you're interested in catching
Dawn of the Planet of the Apes
this weekend... in 3D... with moving seats, indoor weather and unpredictable ape scents piped in to heighten the experience:
Meet the insanity of
The 4DX Theater
, the new 2014 way to watch a 3D movie that involves all that stuff happening in the room along with what's on screen, now open at Downtown's Regal Cinemas L.A. Live Stadium 14.
Know that there are only 104 seats. So you'll need to order your tickets online well in advance—this is the only theater like this in the country. And then... sure, most movie theaters in LA have good amenities. Like, you know, popcorn buckets.
But to truly get lost in a film, you wouldn't object to sitting in a seat that lurches forward every time a hairy primate leaps in the air. Or surrounds you with fog when there's a forest on screen. Or, well...
Let's all hope
Sex Tape
isn't playing here next week.