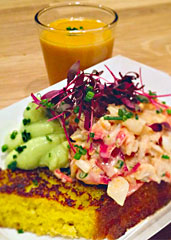 We'll say it up front:
If you're morally opposed to the concept of lunch, stop reading this email now.
...
You're still here. Great.
Welcome to the part about
Munch Mobile Kitchen
, a highly ambitious new food truck that's giving you lobster bisque to eat and nonalcoholic green Chartreuse cocktails (we'll explain) to drink, expecting to roll out this week.
How this happened: a veteran Masa bartender and Lucca's former executive chef got together and realized that there weren't enough food trucks serving duck sausage or dehydrated Chartreuse. And this big black truck is their way of fixing that problem.
The menu's kinda weird. Evidence: the
spuds-free poutine
made by covering tempura-fried green beans with duck sausage and brie gravy. And that thick slice of jalapeño cornbread with Maine lobster salad and a side shot of bisque.
They have cocktails, too. Like the
Stunt Double
. But because 1) there are laws, and 2) you might have to do something later, it's sans booze. Which they've accomplished by dehydrating Chartreuse to remove the alcohol but keep the flavor. Then they replenish it with juniper water, ginger shrub and lemon.
Teetotalism just got great.