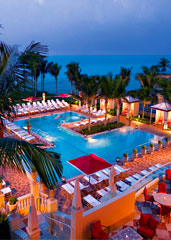 "The weather is hot and girls are dressing less,
And checking out the fellas to tell 'em who's best."
Summer, summer, summertime indeed.
But in all of his lyrical wisdom, there's one thing Mr. Smith failed to mention about summer: where you can get an eight-pound king crab brought to your poolside chaise.
Major oversight. One that you'll never make. Thanks to this:
The UrbanDaddy Miami Guide to Pool Amenities
. It's a highly scientific infographic breaking down the creature comforts available poolside at our city's finest resorts. Stuff like booze-infused fruit and individuals specially tasked with wiping your sunglasses. With Evian.
It's the little things...