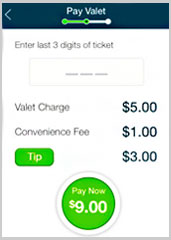 Here's a list of services that still require cash.
1. Lemonade stands
2. [REDACTED]
3. Valet
Let's see what we can do about that last one.
Get acquainted with
Parqer
, a local app that's changing the way you pay for valet. It's available now for iPhone and coming soon to Android.
You probably have questions. Maybe even the below questions. Let's answer them.
What's going on here exactly?
A local guy realized that valet stands are one of the few remaining places that only accept cash. So he built an app that allows you to pay with your credit card instead.
How do I use this thing?
Download the app and plug in your credit card info. Then when the time comes to get your car from valet, just pull up said app, choose your location from the list and follow the prompts to pay/tip.
And where can I use it?
For now, NorthPark mall (the shops, the restaurants) and a bunch of other places. Like the Katy Trail Ice House, Sunset Lounge and Three Sheets.
What if I'd rather just pay with cash?
Sure, that's still an option.
Makes for an easier handshake exchange.