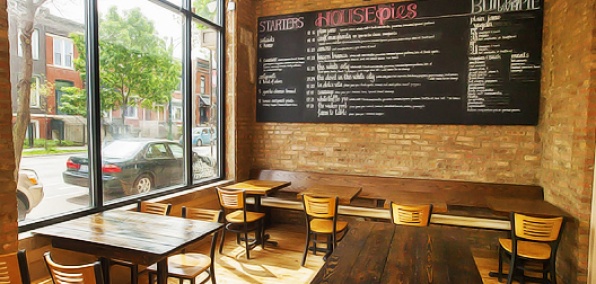 Pizza dough.

It can be thin. It can be thick. It can... be a bagel.

Your explanation shall come in the form of Craft Pizza, a new haven of thin-crust pie and freshly boiled bagels from the Pizzeria Serio guys, hoping to soft-open as early as Saturday in Wicker Park.

It's a pretty standard scenario in here, decor-wise. Oh, let's see. Some wood that used to belong to another building (we'll call it "reclaimed"). A long church pew banquette. One giant wall menu. Really, it's all you need from a let's-just-pop-in neighborhood BYOB.

Then we get to that crispy-yet-chewy pizza crust they've developed, which rises for a full 24 hours. In other words, if they're out of dough... well, they'll see you tomorrow.

They're topping the 11 kinds of pies with a mix of imported cheeses and the occasional fiery hot peppers like in The Devil in the White City. Order one of those, and five to six minutes later, you're eating and smiling and being all spiritually fulfilled.

Then, in a few weeks, they'll be launching a morning café. See, they figured with all this great dough, they should also create some amazing bagels just in time for your morning commute.

You've just been pizza-bagel blindsided.