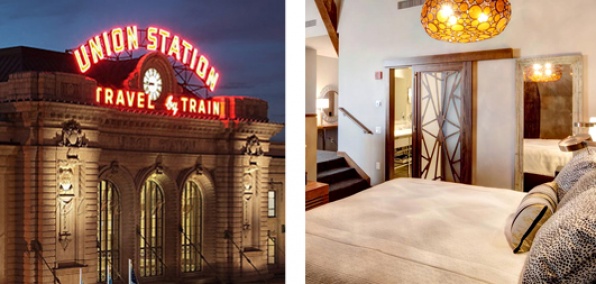 Finally, a better way to sleep in a train station...

What's that? You've never had the pleasure?

No idea what you're missing.

Get on the right side of the tracks for The Crawford Hotel, your new eat/drink/sleep/repeat arrangements conveniently located inside of downtown Denver's historic Union Station, now taking reservations for a July 12 opening.

You see, what was once just your average, 19th-century train station is now your secret power move in a place where no one will be looking for you.

Let's take a peek at what was then and what is now, shall we...

Where You Sleep
Then: A floor. A seat in the terminal. Definitely nowhere near a jackalope.
Now: Definitely near a jackalope. Several of the rooms have mounted versions of those under 17-foot-high ceilings, exposed brick and timber beams. Others are modeled after old, iconic luxury train cars and overlook the train yard. All have beds.

Where You Drink
Then: Maybe a saloon.
Now: The Cooper Lounge. It's where you'll get your gazing-out-of-a-two-story-window-while-drinking-Old-Fashioneds fix. That's a specific fix.

Where You Eat
Then: Maybe at that same saloon.
Now: Any one of the restaurants serving things like frosty Colorado drafts and pineapple upside-down pancakes.

Beats mango right-side-up pancakes every time.