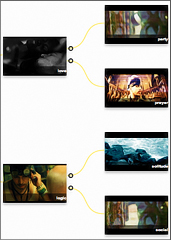 If you want to eat a turkey sandwich this afternoon, do that.
If you want to dress up like a turkey sandwich this afternoon, do that.
See what you did there... you just chose your own adventure.
You just forgot to film it.
Adjust your focus for
Adventr
, an online vehicle that lets you turn your personal videos into choose-your-own-adventure films, now taking sign-ups in the order they're received.
You know how those old choose-your-own-adventure books work. Well, it's the same idea here. Only you get to star in it, produce it and share it with the world for no other reason than the fact that you can. Oh, and fun fact: it was created by Kanye West's cousin. (You had to know it would be.)
Once you're registered, use the editing screen to drag and drop your clips in place on your computer (the mobile app is coming). Set some trigger words that people can click on in the video. Then share it wherever. Twitter. Facebook. YouTube.
Nowhere.