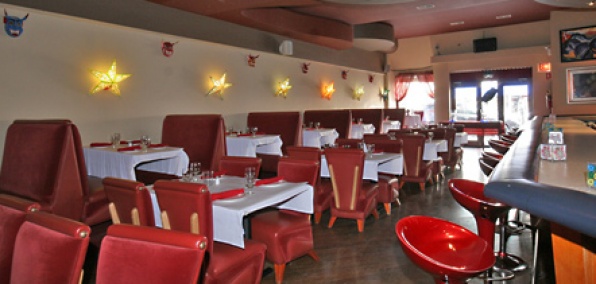 Ah, these precious first days of May.
The delicate bloom on the trees. The florid scents. The scampering bunnies.
And let's not forget the tequila.
Introducing
Los Moles
, now taking root in Lakeview, just in time to spice up your Cinco de Mayo festivities.
The latest installment from the city's
mole godfather
, Los Moles is the sort of place you'll want to take that hard-to-impress buddy from college and his foodie fiancée. (Or just his foodie fiancée. Kidding, of course…) 
The moles have been pared down to the absolute essentials (green, white, red, black), and the room—an unrestrained blend of high-tech Euro seating and Mexican folk art (not to mention a whole lot of red)—is lorded over by a highly skilled/hypnotic Tortilla Lady, pressing flour into perfect discs to accompany your free-range duck, pork loin and quail, all smothered in a decadent sauce.
Then again, we can also see you making this your regular Tuesday night spot, camping out at the bar with an icy cerveza or one of the fine tequilas while making a meal of the appetizer tray—queso fundido, quesadillas, tangy ceviche tostadas and spicy guacamole.
Sounds like a fiesta to us…