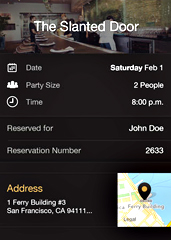 We're lovers. You know that. But every now and again, something comes across our desks that just seems... suspicious. Because of the tremendous material upside to all our lives if these claims pan out, we at times put ourselves in harm's way to investigate. Albeit skeptically.
We call it: Skeptical Investigation. (Trademark pending.)
THE CLAIM

That
Table8
, the convention-bending new app from a Twitter vet, can get you coveted same-day reservations at coveted restaurants—for a fee.
THE INVESTIGATION

On Friday afternoon (4pm, to be exact), our trusty investigator logged on to Table8 in the hopes of snagging a two-top for 8pm at the Slanted Door—one of 11 restaurants, including Roka Akor, Boulevard, La Folie and Spruce—on the roster to date. Yes, our trusty investigators tend to dream big.
And then... the app merrily crushed our investigator's dreams. Basically. There were zero reservations available. At any of the 11 restaurants. Next available: Saturday night, 7:30pm at Roka Akor, Spruce or the Slanted Door for $20. (Four-tops are $25.)
By Saturday morning, everything everywhere was booked until Thursday. (The app only books Thursdays through Saturdays.)
THE VERDICT

More restaurants are due to be added soon. For now, in a pinch, you'll probably have better luck greasing your favorite maître d'.