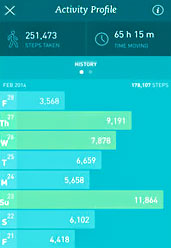 There's nothing better than a Friday night workout.
Like tonight, you plan to walk from Blackbird Ordinary to Dolores but You Can Call Me Lolita. That's like 4,500 steps right there.
Watch your step with
Breeze
, the clean, streamlined new app for iPhone 5s that tracks your daily activity and congratulates you on choices like taking the stairs... to pick up your Cuban sandwich. Baby steps.
The brass tacks: Breeze uses your iPhone's activity tracker and then proceeds to monitor your steps and movement. Think of it like Big Brother, but the kind that roots for you. So download the app. Start moving. When you do, Breeze will give you a well-deserved pat on the back. Get a "Nice job!" for doing things you would do anyway. Fitness. It's not so hard.
Then Breeze will help you establish some goals. If you do 3,588 steps today, let's make it a cool 6,000 tomorrow. Pretty soon you'll be volunteering to courier that top-secret memo yourself. The Venetian Causeway is really quite something on foot.
Also, you can share and compare your activity with friends on Facebook and Twitter and such.
Social media or it didn't happen.