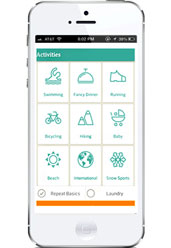 Coachella weekend one:
You looked around. You saw guys in day-glo jorts and girls wearing tinfoil-feathered headdresses.
You saw... a bunch of people who might need some help packing.
Open a suitcase for
PackPoint
, a new app that builds you a perfect packing list based on where you're going and what you're doing—now available for Android and BlackBerry, and coming soon for iPhone.
First, download the thing. Then fill in crucial details like your gender and destination city, and the number of days you'll be traveling. Next comes a menu of activities you'll do when you're there, like swimming, hiking, meetings, fancy dinners and cocktails. Pick whatever's relevant, and the app will deliver you a thorough but customizable list of all the essentials you'll need.
So if you're heading back to Indio, it will make sure you don't forget your sunscreen and shades. If you're just holing up at Sunset Marquis for the night tonight (we won't ask questions), it'll make sure you remember your power suit and flask.
Well, probably not the flask.
But seriously, don't forget the flask.