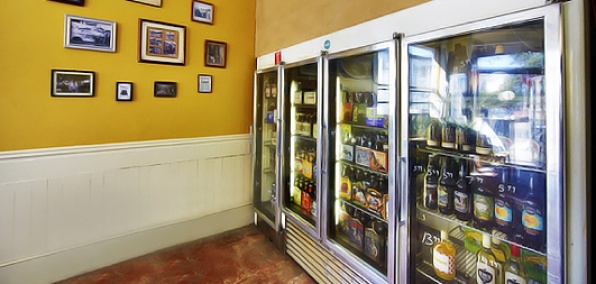 You live in a great state.
A state that makes wine. A state that makes beer. A state that makes rum and rye and...
Well, anyway, that's all at this liquor store.
Make your wet bar 43% more legit at
Local Cellar
, a new shop filled with only the most important things—beer, wine and spirits made on this side of state lines—now open in the Mission.
If California had an official state liquor store, it'd be this place—a sliver of mustard and white, devoted only to getting you local beer, wine and spirits. And it's from the Local Mission Market guys, which means two important things:
1) They've got a reliable eye for the good stuff. Here's where you can
stock up for game day
or a rooftop barbecue with beer from Almanac, Pine Street and Ballast, and any gins or absinthes from Raff Distillerie for... any gin- or absinthe-shaped holes currently blemishing your wet bar.
And 2) you've got some interesting options if for some reason you can't get to the store. You could have everything shipped over to Local Mission Market, then pick it up there with your groceries—or soon they'll ship everything right to your place.
They just... really want you to have good beer, okay?