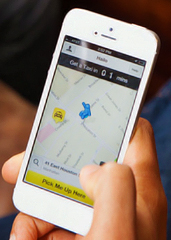 The situation:
You need a stranger to stop their vehicle and drive you places.
The solution:
Hitchhiking.
If it's 1957 and you're Jack Kerouac, that is.
But since it's not and you're not, let's... go a different route.
See the world through yellow-colored glasses with
Hailo
, an app that alerts nearby taxis that you need them immediately (without you ever having to make a call or look like you're high-fiving someone who isn't there), taking invite requests now and launching within weeks.
This city: not the easiest place to catch a cab. Don't worry, though. You're about to have a fleet of local cabbies on standby in your pocket. They don't mind it in there. Promise.
Say you're heading to the airport. Or drinking green beers. Or randomly feel like being driven somewhere for no reason. When you're ready to go, pull up the app, summon a yellow vehicle and wait for a notification along the lines of "Your chariot awaits." Pretty easy stuff.
Oh, and it uses your preset credit card info to automatically charge you. So you can just hop right out when you get where you're going.
It's like it's free, but it's not free at all.