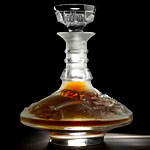 THE OLDEST SCOTCH AT TEN POUND
The Macallan 64-Year-Old Single Malt
What it is: The last obtainable shot of the Speyside distillery's union of sherry-cask-aged single malt scotches from '42, '45 and '46.
When you'll drink it: When you're feeling exceptionally generous (and slightly thirsty) after a fruitful Vegas weekend. This shot costs $64,000, which goes to your charity of choice.
Made before: The first monkey astronauts were launched into space.