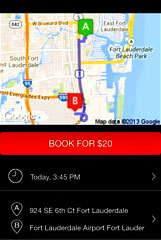 We're lovers. You know that. But every now and again, something comes across our desks that just seems... suspicious. Because of the tremendous material upside to all our lives if these claims pan out, we at times put ourselves in harm's way to investigate. Albeit skeptically.
We call it: Skeptical Investigation. (Trademark pending.)
THE CLAIM

That you can download this app (
RedCap
), input some addresses and have a driver sent to your location who will take you just about anywhere in the tri-county area. Using your car. Yes, they'll be behind the wheel of your personal motor vehicle. Which... okay.
THE INVESTIGATION

Our intrepid nightlife investigator downloaded the app and signed up for the gratis 30-day trial (membership typically costs $20 per month, exclusive of actual trips). They scheduled an evening's worth of research between Midtown and SoBe. The address of each location was entered into the app, an approximate quote was provided and a driver was summoned.
Within seven minutes, a uniformed gentleman arrived, commandeered the keys to our investigator's vehicle and proceeded to chauffeur them to various research sites (see: "bars"). The chauffeur may or may not have also taken our investigator to a fast-food drive-through.
THE VERDICT

It works... with limitations. The service is only available until 2am on weekends. Rough. Also: not all of Miami-Dade County is available (sorry, Kendall). But our investigator says the app was easy to navigate and the driver definitely knew what he was doing.
To be clear, that's driving.