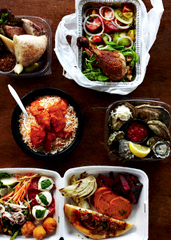 We're lovers. You know that. But every now and again, something comes across our desks that just seems... suspicious. Because of the tremendous material upside to all our lives if these claims pan out, we at times put ourselves in harm's way to investigate. Albeit skeptically.
We call it: Skeptical Investigation. (Trademark pending.)
THE CLAIM

That
Caviar
, an elite food delivery service, will bring you (still hot) lunch and dinner anywhere in Manhattan south of Central Park from places that are far and... just don't normally deliver.
THE INVESTIGATION

Our crack team of gallant investigators holed up near Columbus Circle and visited the site to scope out options. Among others, they've got Katz's Deli, Corner Bistro, Han Dynasty and (once it reopens) Mission Chinese. So... good start.
After a brief scuffle, the East Village's Han Dynasty was chosen.
After each investigator added their choices separately via the "Share your cart" option, the order was placed.
They were then given a page through which they could see when their order went out and track it in real time. During which time productivity plummeted.
THE VERDICT

...
...
Sorry, our intrepid investigators' mouths were full of hot, spicy dan dan noodles. It works. Every part. And took just about an hour. Magic is real.
Oh, and happy Thanksgiving.