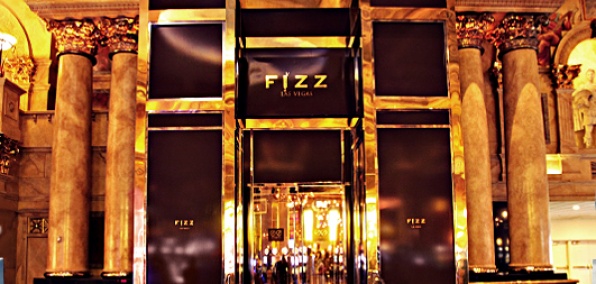 From the man who brought you "Tiny Dancer."
And "Levon."
And the
Lion King
soundtrack.
Comes the inspiration for your next Vegas nightcap.
And you can tell everybody, that this is...
Fizz
, an ornate ivory palace of champagne that's basically the bar version of Sir Elton John, now open between the Forum Shops and the Colosseum at Caesars Palace.
This is exactly how you'd imagine it. Elaborate cream wraparound banquettes and gleaming silver columns. Chandeliers that look like abstract glasses of cognac. Art from the private collection of Elton and David Furnish (this is his creation). A small plate, charcuterie and caviar menu courtesy of Elton's personal chef. And champagne.
So much champagne
.
To put it simply, this place is for celebrating. Maybe you're toasting an epic run at the blackjack tables. Or maybe you're patting yourself on the back for a... generous charitable donation to said tables (feel free to steal that euphemism). Either way, do it with the
Fizz Deluxe
, a French '75 scion that includes egg white, lemon juice, rose syrup, Grand Marnier Quintessence, Hennessy Richard and Dom Pérignon Rosé. It's a $2,500 cocktail, but...
... they use really good lemon juice.