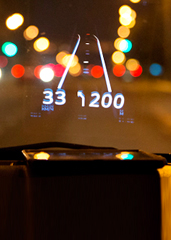 1962: George Jetson soars to the sprockets factory in a bubble-top Aerocar.
1987: Captain Lone Starr rescues the galaxy in a flying Winnebago.
2013: You download an app that projects driving help from your phone... directly onto your windshield.
Tough to say which driving milestone is the most historic...
Buckle up for
Hudway
, a new app that helps you navigate tricky roads by blasting helpful graphics from phone to windshield, available now for iPhone.
When you're on the 405, you know where you'll be in an hour: half a mile farther down the 405. But before 2014, you might find yourself navigating treacherous Mammoth hairpins or a foggy redwood-cloaked road to your great-uncle's cabin, or maybe you'll go to the Valley or something.
Here's where this app comes in. Just download it to your iPhone (ETA for Android: February). Plug in your destination. Then place your phone on the dashboard. Two lines illustrating the road before you—showing every approaching curve—and your current speed will project onto your windshield, right above your indicators. All of which helps you navigate any combination of darkness, confusion and inclement weather.
Plus it looks cool.