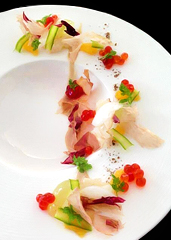 Experimenting. Sometimes it leads to the lightbulb. Other times, it leads to the fauxhawk.
Speaking of which: there's an experimental dining thing happening in town. It could be huge. Or... the next fauxhawk.
Welcome to
Under the Table
, an interesting little culinary laboratory in Evanston, taking reservations now.
We assure you there is nothing to fear. There are, however, some things you should know going into this. Four things, actually...
It only happens once a week.

Think of it as a recurring pop-up restaurant. You'll buy your tickets online. If things go well, they'll expand to two nights a week.
This is where we mention the Alinea connection...

The two owners are only 22 years old. One is still in college. One has produced a Bollywood film. The chef, also 22, has worked at Alinea and Schwa. Presumably, he knows his way around liquid nitrogen.
Things will get a little wild.

Yes, words like "absinthe gel" and "duck-gizzard custard" will be bandied about. And if you want to plate your own dinner, they'll give you some rubber gloves, walk you back to the kitchen and put you to work.
About that hay on the floor...

It's there for autumnal effect.
Don't eat it.