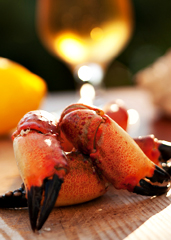 A bill. A magazine. Some junk. And a pound of stone crabs.
Play your cards right and all of that could be in your mailbox tomorrow.
Grab the nearest mallet for
Über Stone Crabs
, a team of tech-savvy crabmongers capable of delivering Florida's most prized crustacean from its natural habitat to your door in 24 hours, available now.
Ah, the noble stone crab. The sweeter, meatier cousin to the... not-stone-crab crab. As you probably know, stone crabs are only in season between October 15 and May 15. Today is between October 15 and May 15...
Which means you should go to this website and order some crabs for immediate delivery. Just pick a size—"colossal" is probably the prudent choice—and they'll pack up your precious steamed-to-order claws (along with some tiny bamboo forks) in a temperature-controlled box. Box goes in the mail. Mail arrives at your door in time for that giant crab feast you're hosting the following day.
We almost forgot: you're hosting a giant crab feast tomorrow.