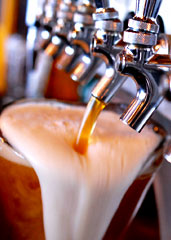 A New York cheesecake porter...
Sounds weirdly delicious right about now.
Too bad that doesn't exist.
Yet.
You'll just have to wait for some enlightened brewer to get on that.
Or... just make it your own damn self.
Ready your taps for
Daddy Brews
, an industrial spot that's providing you with the hops and know-how to create your own beer, now open in the Bird Road Art District. And the following is how you'll make the most of this whole setup.
Your Beer Making 101 class: now in session.

You're going to have to give them a ring to find out the exact time, but hey—the knowledge they're dropping is gratis. So just clear out six hours and go.
Or skip that and go straight for the aisles.

Maybe you've picked up some pointers from a Trappist monk. Or just prefer to figure this brewing thing out with a good read. Well, they've got some books for that along with the hops, grains, yeast and equipment to set you on your way to future tailgating glory.
There's a tasting bar back yonder. Go to her.

The guys here like to experiment. So you might find a saison or a chocolate-peanut-butter porter to sample during study breaks.
Beats a vending machine.