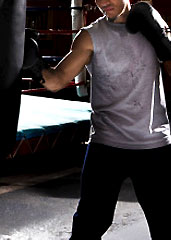 Your fists.
Under the right tutelage, those hurtin' bombs could do a lot of damage.
So hey, here comes the right tutelage. And it involves George Foreman. The Third. And his boxing studio full of saunas.
Put up your dukes for
The Club by George Foreman III
, your new polished black diamond of a boxing gym from the former heavyweight champion of the world's son, taking early sign-ups now for its December opening in Fort Point.
This is no run-down sweat lodge of spit buckets and cauliflower ear. Instead, what you've got here is a state-of-the-art 15,000-square-foot pugilistic palace full of saunas, steam rooms, a juice bar and a massive graffiti mural that honors the man who invented the most successful fat-reducing indoor grilling device of all time.
Anyway, you'll want to take advantage of the early sign-ups now. Then, you've got until December to get into fighting shape (or watch football on the couch) before the doors open and you can start making use of their heavy bags (they've got 70). And speed bags. And two rings where you'll spar while a DJ spins music.
We assume the
Rocky
soundtrack.