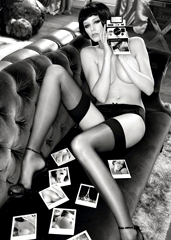 There's nothing quite like a good book...
Especially, you know, one of those ones with artsy nudity.
Find a nice, quiet reading corner for
Glorious
, a new 168-page tome of coffee-table-certified erotic nudes from Belgium's foremost expert on the matter, Frank De Mulder, available for preorder now.
This is the long-awaited follow-up to Mulder's three previous explorations of the female figure,
She
,
Senses
and
Pure
. So far, here's what you've missed: a bunch of attractive ladies lost their clothes; sexiness ensued. (He's not too big on the whole "plot twist" thing.)
As for what's inside this latest volume: a (nude) besunglassed model leaning coyly over a banister; another (nude) model taking erotic photos of herself; and 107 more pictures of women you wouldn't kick out of bed for eating crackers striking sedu
ctive poses.
Oh, and hey, if you order one of the limited Collector's Editions, De Mulder will send you a signed print of one of the images.
Hopefully he had the sense to sign off to the side.