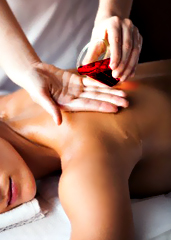 Wine is good for so many things.
It's good for drinking.
It's good for... drinking.
Um... it's also great for rubbing all over your body.
Raise a glass for the
Estancia Vinotherapy Spa Menu
—yes, the spa at Hotel Bel-Air has a new program involving wine massages. We repeat: wine massages. They're taking reservations now.
So you go to a hotel spa. Maybe you go early and have a glass of wine at the bar to relax before all that relaxation. Except this time you won't. Because this time you're at Hotel Bel-Air. And they've partnered with... well, wine, to unleash an entire menu of services that involve you lying there while somebody rubs soothing wine-based products into your skin. Could be a facial, or a pedicure, or the 60-minute
Estancia Vinomassage
. Right. That one.
They say it'll help you unwind, and that the antioxidants in the vino will do nice things for your skin. And they say that if you mix up some wine with crushed grape seeds and grape-seed oils, that'll exfoliate your skin.
You say, "Hey, I just went to a fancy hotel spa and they rubbed wine on me. Felt great."
And yes. After your massage, you get a glass of wine.
For your mouth.
Note:
<a href="http://www.urbandaddy.com/uploads/assets/file/pdfs/b01a11d7e16890bd80272a8b98225b82.pdf" target= "_blank">Estancia Vinotherapy Spa Menu</a>, taking appointments now, treatments begin August 14 at <a href= "http://www.hotelbelair.com/la-prairie-spa" target="_blank">Spa by La Prairie at Hotel Bel-Air</a>, 701 Stone Canyon Rd, 310-909-1681