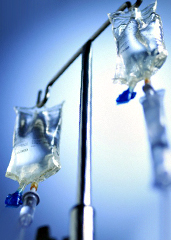 Ah, mornings.
Nature's rebirth. The dawn of a new day. Exciting stuff.
Mornings-
after
... not so exciting.
It's okay, though. You've got
Nutrient Infusions
now. Boston's first and only service wherein a registered nurse hooks you up to an IV filled with hangover-obliterating fluids and makes it all better.
It's available now in the Back Bay, and here's what you need to know about it...
Yes, it involves real needles.

But it's fine. After you're seated in a white leather chair, an MGH-trained registered nurse will hook you up to a bag of what essentially amounts to adult liquid Flintstone vitamins. Kick back. It'll only take about 15 minutes to right your wrongs. Or right your rights. Then...
Let the healing begin.

Almost immediately, a surge of life will return to you. Thank the magnesium. And the zinc. And the nurse. She's nice. And really good at un-bourbon-ing you.
Oh, and it's not just for post-imbibing.

There's other stuff like vitamin C super-boosts to keep your immune system strong. And
The Elite Athlete
, a housemade concoction of B-complex vitamins similar to what the Vegas Cirque du Soleil acrobats use after a night of bending and wild acrobatics.
So, great for Sunday mornings.