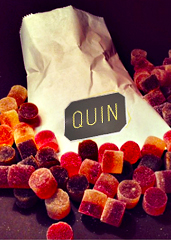 Babies.
Portland.
Both: incredibly easy now to take candy from.
Open your palms for
Quin
, a Portland-based purveyor of candified delights that's churning out all manner of chocolaty, caramelly and sea-salty goodness, online now.
Yep... fancy candy store. Damn good one, in fact. The kind that produces everything in small batches. And uses ingredients like European buttercream. And spells "old-time shop" like "olde-tyme shoppe." You love it when they do that.
You also love it when they set up a website to sell things over the Internet like their signature
Twizzlie Rolls
—that's basically a Tootsie Roll made with Swiss chocolate and hints of freshly roasted Oregon coffee. Or cherry gumdrops—that's basically a gumdrop made with cherries.
And since this stuff doesn't exist anywhere outside the Pacific Northwest, it would probably be for the best if you just sort of went wild. Grab some bakery lollipops to keep in your desk. Stock up on some kettle corn caramels to sneak into the movies. Procure a few of their lemon-and-ginger-flavored
Sniffle Slayers
for when you're congested.
And/or feel like slaying sniffles.