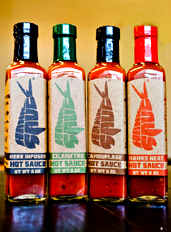 Your mouth has around 10,000 taste buds.
Odds are at least a few thousand would appreciate something spicy, garlicky and cilantro-y.
So today, let's talk about making those little guys happy.
Clear a space by the barbecue for
Hank Sauce
, a new line of perfectly flavored hot sauces that hail from a faraway exotic land known as... New Jersey, available online and shipping now.
The story: two guys from the Garden State met in the fifth grade, became best friends and eventually realized they were pretty damn good at making condiments that taste great on seared mahi. The part of the story you really care about: those condiments are now online.
Which means that 72 hours before the next time you'll be in your backyard with a bunch of burgers, a bunch of beers and a bunch of friends, drop by this site and order a couple of bottles.
If you're looking for something flavorful (or you're making fish tacos), go with the
Cilanktro
. If you're in the market for some heat, get the, well,
Hanks Heat
. But if you want something that really sneaks up on you, try the
Camouflage
.
Okay, so just
act
surprised when you taste it.