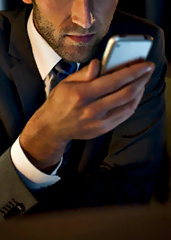 We're lovers. You know that. But every now and again, something comes across our desks that just seems... suspicious. Because of the tremendous material upside to all our lives if these claims pan out, we at times put ourselves in harm's way to investigate. Albeit skeptically.

We call it: Skeptical Investigation. (Trademark pending.)
THE CLAIM

That a public service called
Sexy Tales
can spice up a relationship, rekindle a flame and/or result in the most awkward voice mail ever by helping you create your own phone sex hotline for a special someone. Or for an unspecial someone you'd like to make super-uncomfortable.
THE INVESTIGATION

First, we had a drink.
Then, we closed the blinds.
Then, we listened to some Marvin Gaye.
At which point, we went to this website, where we found an X-rated script with instructions to read it into our phone. So read we did.
Once our breathy monologue was uploaded to their (supposedly) secure server, we were given a prompt to forward it along to an acquaintance. Preferably a very personal one. One who might appreciate such an intimate disclosure of our feelings. And who wouldn't post said disclosure on the Internet.
THE VERDICT

Sure, it works. Plays it back and everything. But when it comes to the art of seduction, if you have to rely on a prepared phone sex script, you're doing it wrong.
Man invented bearskin rugs and candle wax for a reason.