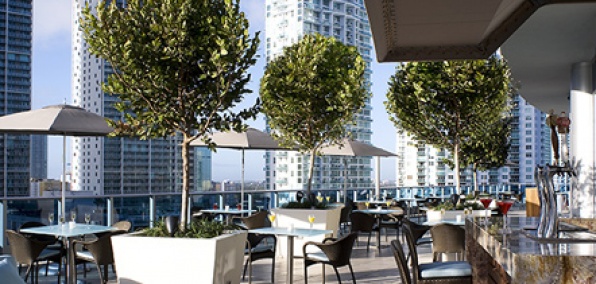 Dark, smoky lounges are the usual spot for tobacco appreciation.
But "usual" is just another word for "boring." Forget usual.
And say hello to
The Cigar Bar at Area 31
, a new open-air club where you can puff some of the finest cigars in Miami (not to mention savor some of the best views), open Wednesday.
Think of the Cigar Bar as the opposite of those cramped, stuffy, creaky, acrid-smoke-filled rooms where old men play cards and stare suspiciously at the door whenever anyone new saunters in. Perched on the 16th floor of the Epic Hotel, on a spacious stretch of sun terrace outside seafood palace Area 31, this is where you'll want to go with friends to bid adieu to your day's troubles with a meticulously hand-rolled cigar from the resident cigar roller (think of him as a sommelier of tobacco), a glass of 20-year-old scotch and maybe a gentlepersonly game of dominoes. (Note: this is definitely not an all-boys club.)
To get things off on the right foot, the Cigar Bar is opening its doors Wednesday with a special night of complimentary Brazilian cocktails, bites and hand-rolled stogies. All you have to do to get you and all your pals on the list is RSVP
here
.
Should be a heck of a blowout…