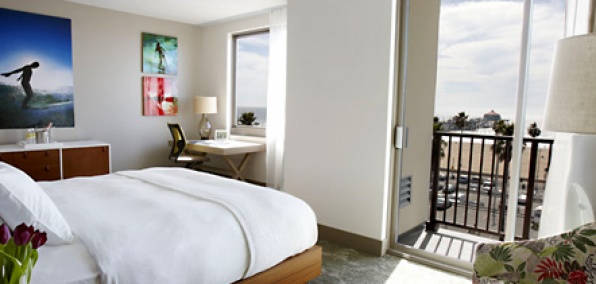 We love the city, but let's face it, we love leaving it even more. Hence Get Out of Dodge, which periodically hooks you up with the best weekend getaways just a short skip away. Get going...

So when summer stomps in like this, early and without any sense of subtlety, you can't deepen your drinks-on-sand portfolio quickly enough.

You need a top-down jaunt to a new beachside getaway, and wetsuit elevators should figure in prominently. (More on that later.) Shorebreak Hotel is now taking reservations for its Huntington Beach debut, and for the first 100 days, they're offering $100 rooms for anybody within 100 miles. (That's you.)

The joint aims for a certain refinement, but it isn't afraid of bare feet—photos of surfers are everywhere, private oceanside balconies keep you in tune with the waves, and, yes, the main elevator is covered with wetsuit material. We hear you need that insulation to protect you from the totally tubular second floor—they designed the hallway lights to look like you're in the barrel on your board.

If all that surfing (imagined or otherwise) whets your appetite, the in-house restaurant Zimzala—named after the surfer slang for someone who finds peace with sand between their toes—will get you your protein in the form of Portuguese Onion-Smothered Grass-Fed Rib Eye. Or you could just find a courtyard firepit and settle in for a stiff drink and some S'mores.

Should fuel you up enough to take on…the third floor.