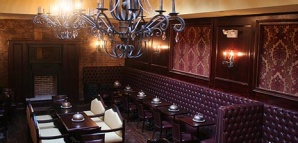 It's time to slow down, sit back and sip some gin.

May we suggest...Gin Lane.

The former Village Idiot space has grown up into a decadent '40s-style clubhouse that's old-world class, come a little bit undone (just the way we like it).

At Gin Lane there'll be no dine and dash, because it's all about a return to the three-hour long meals of yesteryear, where you can catch up with the pack over the best old-school drinks in town. The 100-year-old oak bar will serve up cocktails designed by master Dale DeGroff—try to have just a couple, and you'll be trying for the rest of the night.

Settle back and get in touch with your genteel side amidst mahogany-paneled walls, black iron chandeliers and natty servers in silk ties and Ted Baker (but with Converse sneaks and top buttons undone—yes, it does get crazy up in here). Relax under the open sky when the main room's massive retractable skylight slides open, and enjoy continental classics like the Fulton Street Crab Cake, Steak Tartar and Oysters Rockefeller. It might take all your effort to keep from asking Jeeves to draw your bath and fetch your robe and pipe at the end of the night.

And come September, a tiny seven-table downstairs lounge (overseen by PM folks) will give you a chance to wander around the Lane just a little while longer.